this weekend is going to be insane but packed with lots and lots of fun. friday night my brother is getting married to the best darn soon-to-be-sister-in-law a girl could ask for. i not so secretly love brienne. there i said it. im just so happy about the wedding (and it isn't at all because i found a great dress i swear!). really though, it's all about love. nothing makes me happier than when people i love have good things happen to them and what could be better than marrying someone you're in love with?! i think we've all probably been to a wedding or two in our lifetime that we've sat through it with grinding teeth and feeling skeptical about the couple. im just being honest here, i have indeed sat through weddings where i didn't fully get into the nuptials. you know, because my opinion matters right? i say that to illustrate that this wedding couldn't be any farther from that sort of thing. so anyways david is taking off from work a little early and we'll be making the trek to my parents house after getting all dolled up (to the 9s!). the actual ceremony is out around the small lake near their house (also near where david proposed so im especially biased towards this get up) at i think 7. afterward im going to put the babies down in the house and then we'll have a no doubt beautiful reception full of family, laughs, and food on my parents lawn.
saturday during the day we're headed to comfest. so excited!! this is pretty much the hippy mecca for our city even though it is slated as simply a community festival - taking on subjects like growing herbs, yoga & tai chi, poetry slams, and a whole lot of music and dancing. i really cannot wait to take the kids, david is less enthused about the environment. he claims he hates hippies, but what he really means is that he hates stoners who cling to the 60s version of hippyhood. i continue to remind him that it is very possible that many wouldnt hesitate to attach that word to our little family at times so he'd better be careful of his hippy bashing. to us it's about diminishing our ecological footprint and justice for all people and nothing to do with drugs and getting our groove on. i really wish we would get said groove on though, i love to dance! david, meh. given the opportunity on saturday i will most certainly be dancing to some music with augustine (drum circles!). he inherited my spirit i think. this year by God's grace Hear the Cry - which is vineyard columbus's HIV/AIDS activism group - got a booth. this is soo amazing and unheard of considering the obvious religious backing of the group and the setting within the festival. maggie did a ton of work to make this happen and we are going to comfest in part to support that booth.
after comfest we're going home to get dressed to the 9s again. this time to attend the larger reception for josh and brienne that will be in powell (or north dublin?). more food, family, and laughing will ensue.
sunday the whole family is going to the zoo and i hang my head in shame to admit that this will be augustine's first trip there. he's going to love it!
sometimes working with people on ebay and craigslist makes me want to scratch my eyes out. it's as though everyone with any level of mental instability jumps on that site and buys or sells things from us! yesterday a woman frustrated me so bad i had to go downstairs and eat a brownie. WITH FROSTING ON TOP.

today we went as usual to the library.

well let me digress and interject something here before i go on. most people don't have the sort of issues i do leaving the house. by issues i don't mean the babies by the way (haha), im referring to my chronic anxiety and agoraphobia. i never know when the tide will turn/season will change in my life so i try to make the most of each day that i can leave the house. there have been seasons in the past where i couldn't step foot outside my apartment even to get the mail for weeks (or months...) at a time. i feel those harsh days are behind me thank the Lord but im still pursued by irrational thoughts leaving the house always. basically i try to get out as much as i can with the kids because i try to treat each day of freedom from the burden of my shut-in status as i can because it could be my last.

ok so back to what i was saying -- today we went as usual to the library. they seriously have the coolest playroom ever.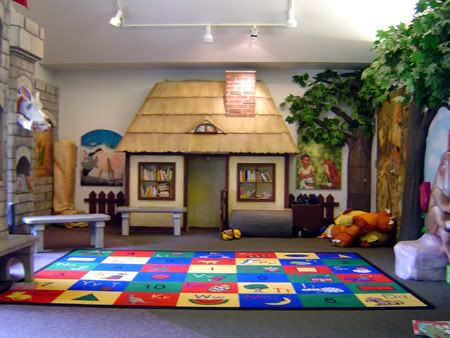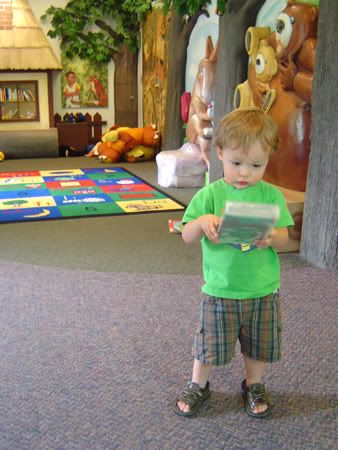 "reading" the thomas video cover

i must say that it was a great idea to read books while nursing. in just a week ive read three adult/nonparenting books!!

someone stopped me while i was loading the kiddos into the car and ask me if we did indeed run our car on vegetable oil (see below photo for the sticker on the back of our car) turns out he is a high school science teacher and is interested in showing his students how to convert an engine. go veggie cars! we had a great conversation about sustainable energy and all that. oh and here is a picture or two of our car