today is probably the first day since olive has been born that i honestly feel tired.

david woke me up when it was time for him to leave for work as usual and augustine was plopped on the couch watching thomas the train (sidebar - british children's shows are so weird!) i sat there nursing olive eating my cereal and when it was over he grabbed his lovey and said "night night". you want to take a nap NOW? "uh huh!" so off he was carted to bed. *shrug* i kept my eye on him all day thinking he might be coming down with something. nothing to indicate such though. so when he woke up we ate lunch and played around a bit. he told me several times that he wanted some "mama milk" so i pumped him some. it cracked me up - he'd take a swig and them make an AAH sound. apparently its delicious. i wonder if any kid has ever gone back to nursing after weaning or being weaned after a sibling has been born? hmm...

after a bath on my part we headed out to visit papa at work. auggie just loves going to see david at work. there are always fun new toys and people to see at the studio. oh auggie tried to leave olive there - he waved goodbye to her when we were walking out. har har. (i swear he's getting better and better everyday though. he acts that way sometimes but that is the extent of his jealousy at this point) after we left davids work i thought i'd be brave and attempt an excursion to the library, as i had books on hold that would go back into circulation unless i picked them up today. the worthington library has the best children's area (and drinking fountain as ive mentioned before). i didn't have even a moment to partake of said delicious h2o dispenser today though. holy wired toddler batman!! we grabbed two new videos and then olive started wailing - you should've seen the wet shirt i walked out wearing. HA! so i nursed her in the car and then realized after all of that, i forgot to get MY books. so i finished up, left the car on, threw the hazard lights on and ran inside for what is quite possibly the fastest self-checkout in the history of the public library system. i was not about to get both of those kiddos out of the car just for a 2-3 minute check out. which would have been more like 10 minutes with two kids in tow, but in reality it was literally 30 seconds i bet. i win!

so we get home and olive is still wailing because she didn't get to fall asleep nursing before i put her back in her baby bucket (car seat), augustine had taken off his shoes in the car and was complaining and begging that i take off his socks, then wanted a snack NOW (as if i have an invisible kitchen in the front seat?). oh and the topper is that i forgot to take his lovey with us. that thing is the fail safe calm-auggie-down trick. i lose!

so here is me carrying olive in her (heavy!) baby bucket, 3 books, 2 videos, the mail, augustine's shoes, and my keys in from the car begging auggie to come into the house instead of playing in the fish pond. i collapse onto the couch just listening to the collective baying of my two babies for a few moments. then get up and extinguish each of the fires one by one. now it's 40 minutes later and my house is so quiet you could hear a mouse toot.

decidedly, i need a cup of tea STAT.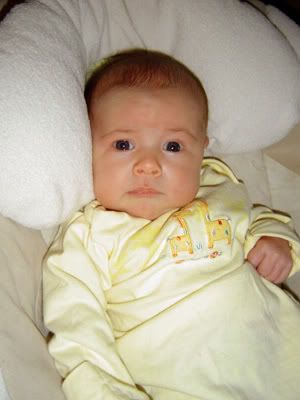 this is the first picture that i think actually looks like her.


so miss olive is three weeks old as of yesterday. how did that happen? my little chunky monkey weighs 9 1/2 pounds now. i think the average weight gain for babes who are exclusively nursed is something like 1/2 - 3/4 lbs per week at this age. augustine was the same way though. the boy ballooned up quickly. anyways i can't believe she's gained 2 1/2 pounds so quickly. she's doing so splendidly well. i don't even mind getting up 3-4 times a night with her! i just stare at her and get all happy and in love.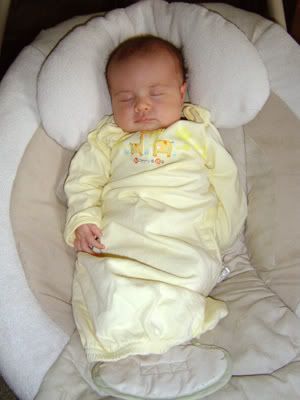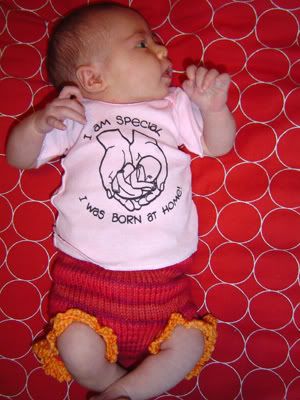 i am special. i was born at home

i got a wonderful surprise yesterday! maggie's husband austin called saying he had the day off and wanted to take augustine to the park so i could have some time to myself (and olive). what a guy! so they went to two parks actually, then ran some other errand to the store i believe. austin is the jam! augustine came home with all sorts of jarbled stories about trains, slides, and bugs.