craziest/longest weekend. im exhausted!

friday -
david came home from work around 3 or so and we got ready and were at my parents house (where the wedding took place) by 5:30. i wrongly assumed that we were supposed to show up ready for the ceremony. the kids and i were the only ones dressed up. remember that scene in home alone where there is utter chaos in the house before they leave on their trip to paris? that was exactly how the house was. granted my parents home is huge but smoosh 30 people in it all getting dressed, doing hair and make up, playing with toys, nibbling on various food and drink, trying to stay out of each others way while simultaneously having moments of "omg wedding in ___ minutes!" and it got nuts. i think after 2 hours of standing on top of one another we were all searching for a private corner to just catch our breath in. i found my way out onto my parents screen room where they had their newly acquired fountain. listening to water is the most peaceful sound in the world i believe. anyways, about 30 minutes before the ceremony was to begin olive started screaming (and screaming and screaming). she, like the rest of us was overstimulated. where an adult can just deal babies cannot and she flipped for the remaining 30 minutes before passing out. i felt so bad for her! nothing we did to try to calm her worked and we wound up not taking her down to the ceremony site, instead opting to leave her (freshly snoozing) with our family friends from out of town that were not attending the actual ceremony outside/babysitters. we headed outside to walk down to the ceremony site and weren't out but a minute and augustine did a face plant and got huge grass stains on his pants. AWESOME. the ceremony and small reception afterward were beautiful, intimate, and very romantic.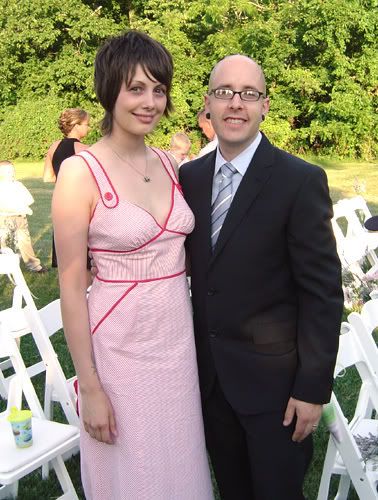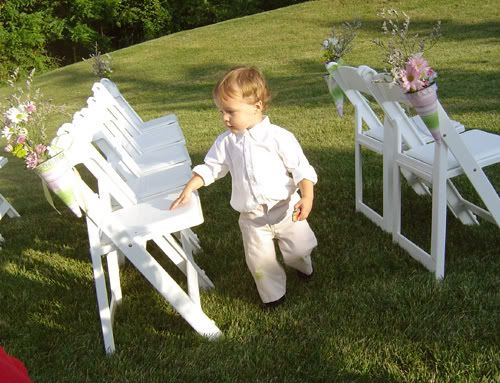 chairs are race tracks for cars right? sup grass stains.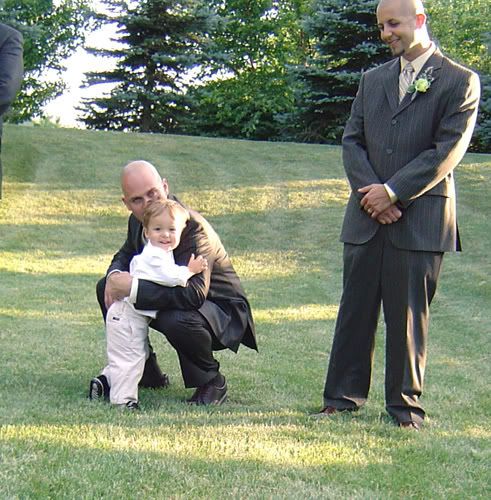 augustine hugging my brother just seconds before brienne walked down the aisle.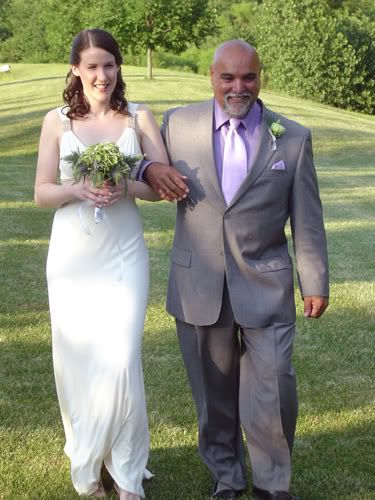 brienne's dress was so gorgeous! her step dad george is hilarious. he should adopt me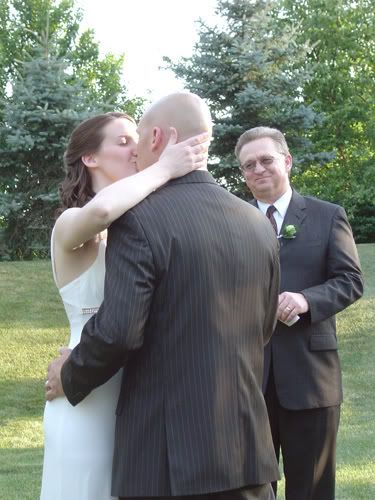 smooch. (that pastor married all of my siblings)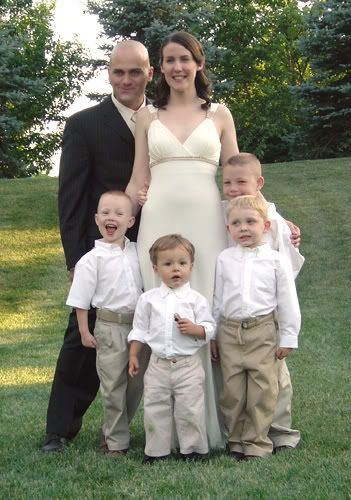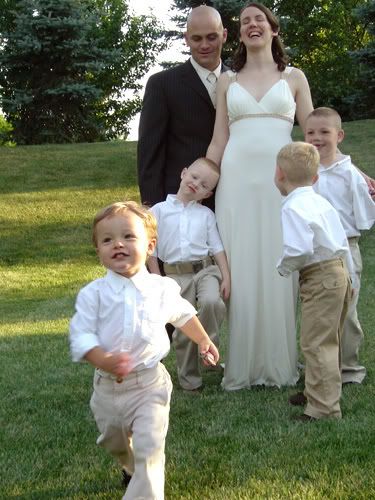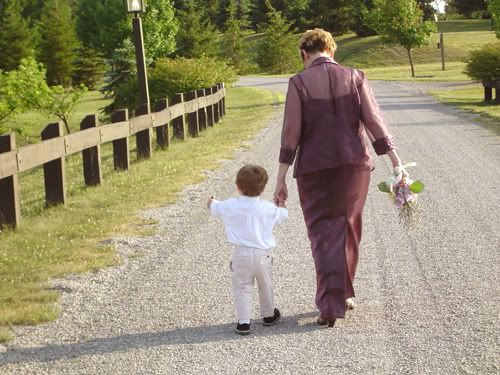 augustine with my mom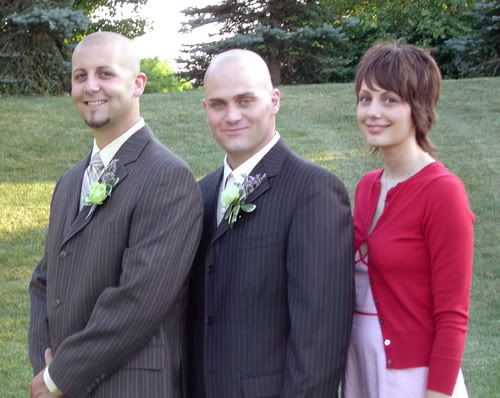 jason, josh, me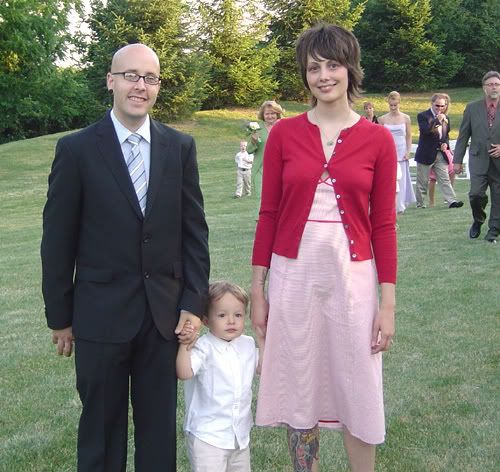 almost our whole family

saturday morning we get up and david has to pick up some accessories for the veggie car (like a pump to get the waste vegetable oil into our tank. we've been using a gallon jug by hand, which is messy and slow). while he's gone i finish the birth house (so good!!). just as olive is nodding off to sleep and i was about to sneak off to take a shower my in laws knock on the door. a lot has changed in my relationship with them. pre-olive i would have hemmed and hawed about my disheveled appearance and messy home. it's not at all that i want them to see my house toddlerized with it's various markings on the walls and toy box that looks like a bomb went off under it, nor my wacky hair (spray wax makes for some wicked morning-after hair!) and pjs. but i know now what i did not embody before her birth and that is that they love me unconditionally and not "in spite of (fill in the blank)". jayne helped me out like no one else after olive was born and it really loosened me up. anyways so we talked for a while and it actually turned out to be a blessing on two fronts. i got to spend time with them and it was better that i didn't shower anyways because we were heading to Comfest and it was so hot that i would have had to shower all over again later. we wanted to get to Comfest by 1 but because we had to put vegetable oil in the car we were running late (the process takes a bit longer than getting traditional gas). so we drive around and i kid you not it took us 45 minutes to find a parking spot that was probably a mile away from the festival. by the time we got there (hot, sweaty, and utterly frustrated irate) we had all of 30 minutes to spend there. said an all too brief hello to maggie and austin working the Hear The Cry booth, made one quick loop around the fest and were back on the road. no photos were taken of our dip into hippyhood at Comfest since we were there a nano second.

cleaned up, got dressed and headed out with jayne and ken (in-laws) to the (larger, more all-inclusive) wedding reception. dancing, food, funny stories, hanging out, etc. were had by all. you simply must see the video of my son dancing to play that funky music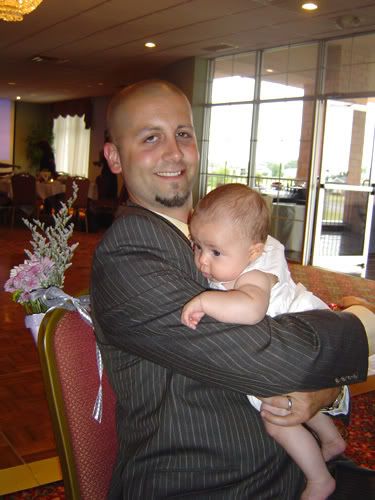 my brother jason and olive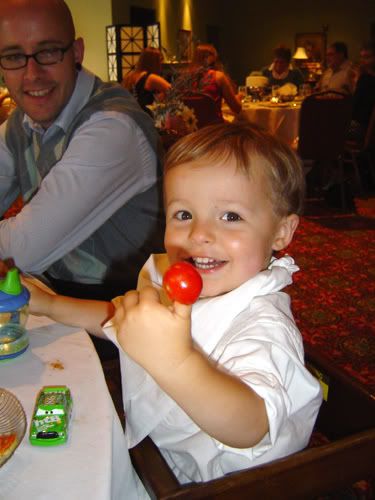 tomato thumb. he was very proud of this invention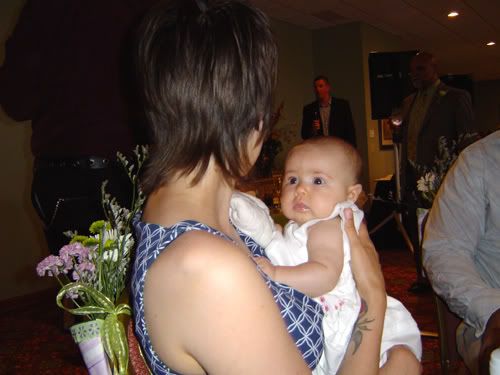 this apparently is david's version of a picture of me and olive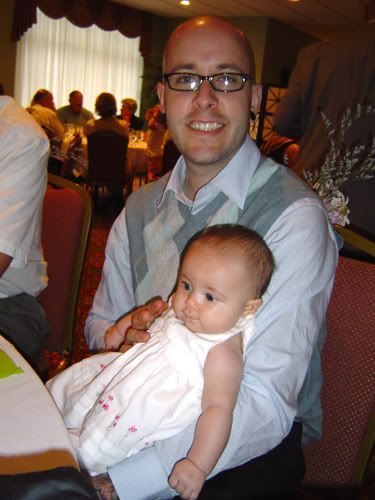 mmmm... cake. it later was dropped =/


play that funky music white boy...


sunday we went to the zoo. so much fun. sadly we ran out of room on our camera so we only got a few shots of the day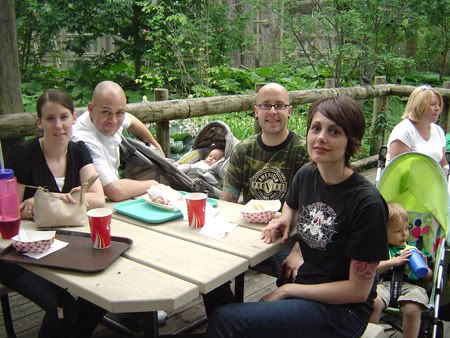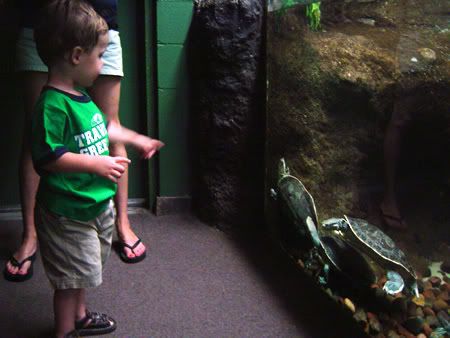 2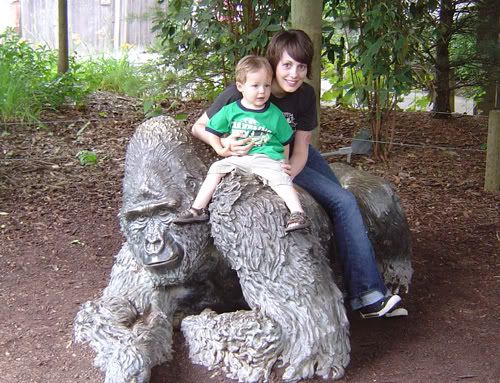 oh and he's wearing this shirt. it says hybrid but hey, i don't think they make wvo ones. close enough! oh and aug went poo on the potty at the zoo. first time ever in public! we celebrated with a huge popcicle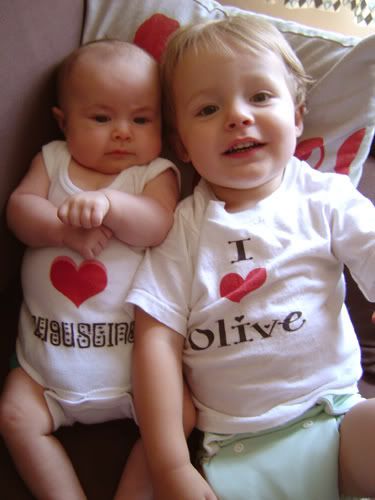 oh and here is this weeks "my kids on the couch" shot.