guess what i got today?!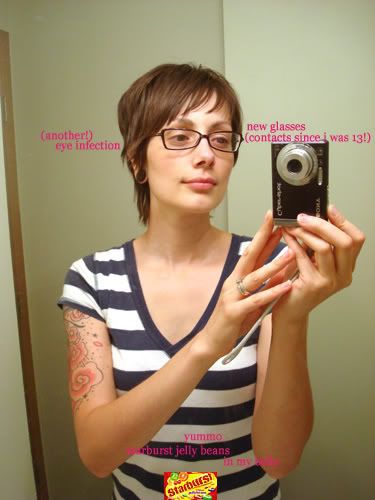 oh and the (different from the last) optometrist gave me an eyedrop prescription that is compatible with nursing. pttff. all of that former donor milk drama for nothing! i can't believe i wear glasses now.


today was nuts. woke up to david calling to tell me that someone had smooshed his car and there was now a 4+ inch dent in the side. AWESOME! and of course no note or anything of that nature. it really soured my day especially since i woke up feeling that i had my forth-this-year eye infection coming on and was finally fed up with my contacts and had to go see a doctor and get glasses. we aren't made of money, shocking i know! so the idea of repairing a car and purchasing glasses for me on top of a prescription/doctors visit left us both a little depressed. i felt so stupid praying about it today. God has always taken care of us. i have a great story that i will interject here -

when david graduated college (highest honors in his class ahem.) we moved from dayton to columbus so he could find a job. in between that time neither of us worked (about 3-4 weeks i'd say) and with the costs of moving and all that we were just broke as broke can be. but david hit the pavement and put the word and his resumes out there. this time off from work afforded us a rare opportunity to travel so we jumped at the chance to drive from ohio out to kansas to visit davids sister and their family. so we woke up one morning in the wee hours and just drove alllll day and night until we got there. while we were out there david got a job offer but what to do for money for two weeks? when we got home there was an overpayment refund check in the mail, some oversight from school and it took us EXACTLY to his first paycheck. many praises rang from our apartment!

so anyways i prayed like a silly baby today, but God has always been faithful so i wasn't really crying about it at all. i just prayed what i felt -- disappointment in humanity (for the person hitting the car and running), frustration (for all of the money i see people wasting - self included - and we can't afford some things that we actually need), humility (for being the waster of resources/money so often). so one of our friends had a problem with their car and earlier in the week david had committed himself to helping her out with it. as he was finishing up she slipped him a little bit of money and when he got home he looked and it was a hundred bucks!! God is so gracious and we don't even know all of the ways blessings are heaped upon us. so today i say, keep those peepers open guys. i spent most of the day grumbling and just feeling all out of wack but between my mom and erin (the girl with the car) i learned so much about being loved on, even if it isn't a big deal to the other person.