i have major issues with how some parents treat their children. i think the most obvious ones are when we feel a child is being mistreated, ignored, harmed but likewise i take issue with parents who i feel over inflate their children. why in the world is there so much diva/sassy girl stuff out there!!? am i surprised that little girls turn into women who are (the b word), absolutely not! im not saying that a little girl toting a bunch of diva stuff equates to or explains a woman with entitlement issues but it has to contribute right? im not better than anyone but HECK NO you will never catch my kid wearing something like that. i find the "diva" thing a little trashy honestly. get over yourself dudes.

this morning auggie got out of bed and laid in the hallway outside of the bathroom while david got ready for work (usually david leaves at 7:30 and aug comes into our room to wake olive and i up nearer to 8) but today he felt the need to get up at like 6:45 and catnap in the hallway, camping out waiting for papa. i think david said he stepped on him when he came out.

speaking of david, i really love him. for many reasons of course but one is that he knows i have a secret candy stash and never asks where it is, what is in it, why i have it, or if he can have some. sometimes i feel like that is the only thing i have (besides reading) that is just mine and i think he really gets that.


for once i am glad the weekend is over (kinda, sorta, maybe). friday night we went to our friend colin's surprise party. i love surprise parties because, if they truly know nothing about it, their face is priceless when they walk in. colin's was priceless. anyways the party was great - they offered like 30 different kinds of wine and cheese paired up with yummy fruits and crackers. they also gave everyone cigars but i refrained (and also from the alcohol) but i surely stuffed myself with cheese, crackers, salad, cake, and fruit until i thought i might split in two. mark and judy really know how to throw a bash! oh and auggie and another little boy his age (kaiden) "played" foos ball for about an hour together. it was so cute to see them sitting on stools battling it out.

saturday david and i both had lots of (separate) plans and the house was buzzing with activity at 7:30 am. my mom and i were out the door with the kiddos by 8:15, ready to get in line for the bargain baby boutique - which is sort of the mama equivalent of those wedding dress sales where people get nuts and grabby. this isn't quite that bad but i definitely had a lady snatch some baby tights out of my hand at one point. the doors opened at 9 and we were there by 8:35 i'd say. yup we were about the 300th person in line i'd guess. the point is that by the end of the insane two hours we spent there i had gotten olive her entire fall/winter wardrobe (aug doesn't need anything else since most of last years clothes still fit) as well as maggie some maternity clothes all for like $50! i win! the clothes i got are hysterical and awesome, i am especially excited about the gymboree and old navy tights i got for olive - rainbow stripes + hearts.

oh i forgot to mention but david headed out the door shortly after we left to go to the BBB to go to the scoot a que rally (breakfast and ride). bummer in some ways that we no longer have our vespa. he was there most of the day.

after that exhausting ordeal we headed back to my house and sorted through the clothes and put them in the washer and gabbed a little bit while olive snoozed. not an hour later we were back on the road heading out to the craftin' outlaws show where i (finally!) allowed myself to spend money on me. i got a gorgeous skirt (with this print on it), a dress ), and a tshirt. i also got olive a christmas present - a handmade octopus named walt. that was so much fun despite the babies getting really cranky. (thanks mom for the early birthday presents too!)

then we came back, ate some lunch on the fly, and all three of us conked outttt.

sunday we woke up and went once again to the big bug park. that place is awesome.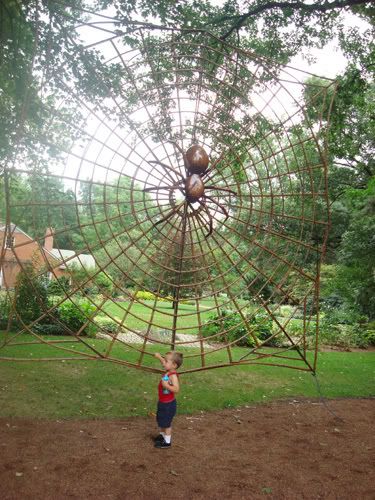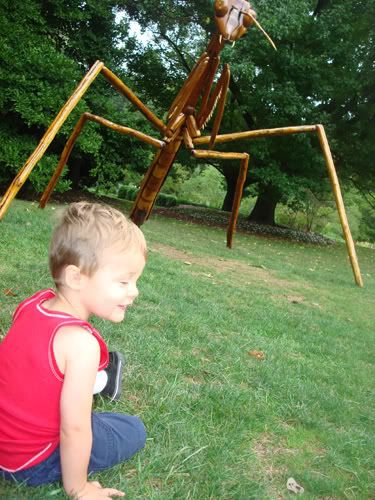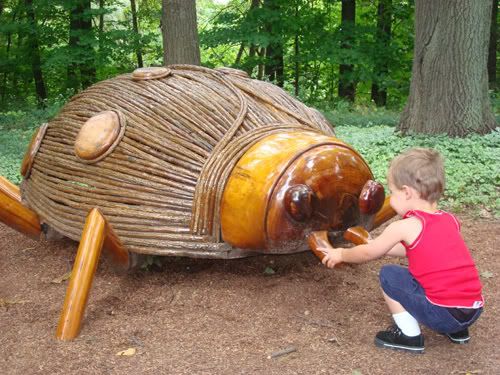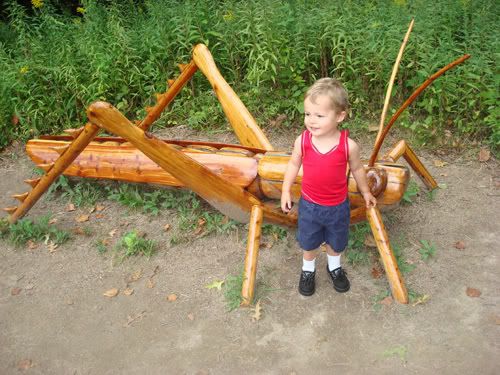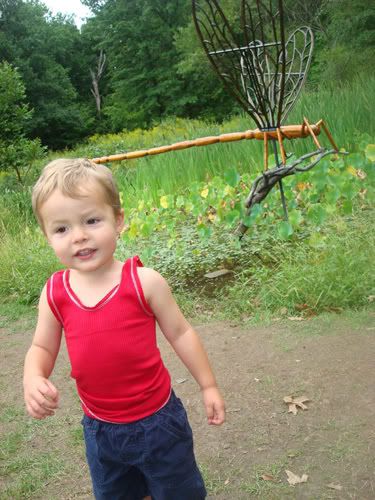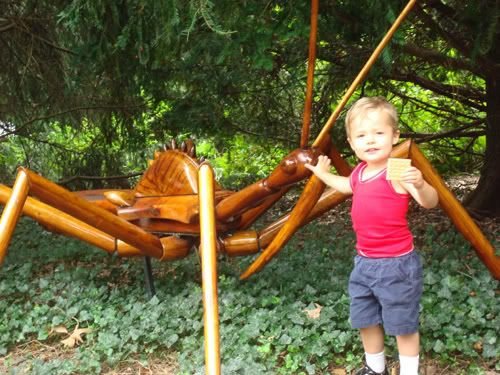 trying to feed the assassin bug a graham cracker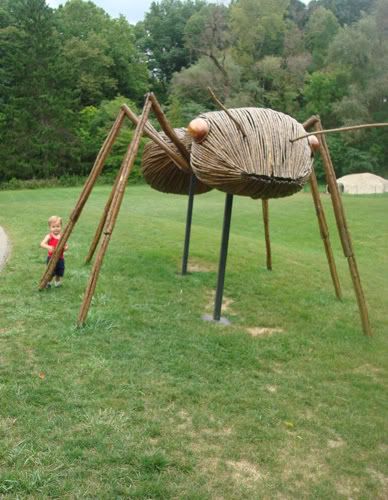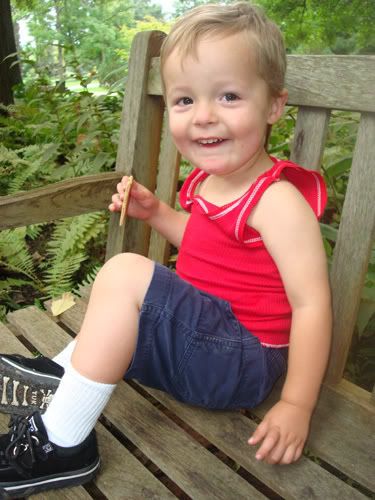 he had just hit his chin on the bench. i was trying to make him laugh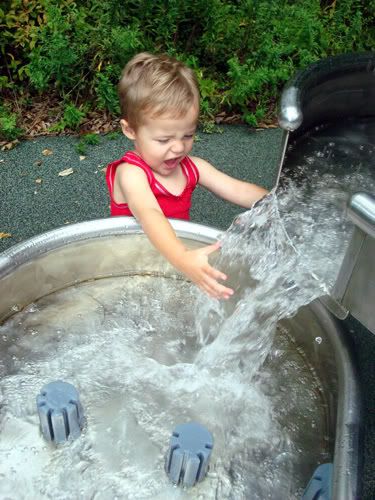 they had a small water-play area. this is his "i like getting wet but fear getting my face splashed" face.

oh and i love this: