we got a little bit of snow. i guess. im glad david fills our children's lives with such wonder. he spent nearly two hours (maybe more) filling our yard with snowmen and making this fort.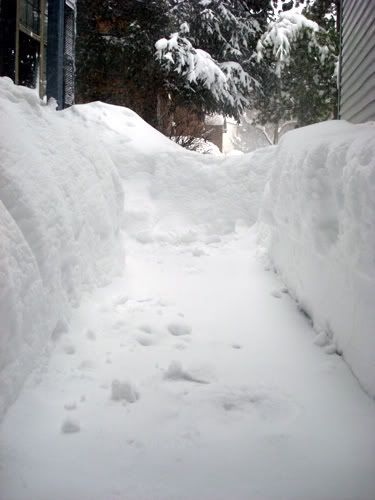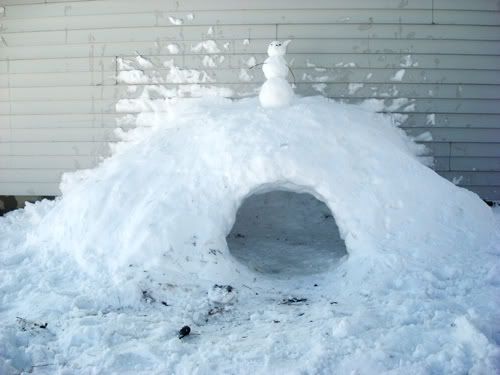 in one month and two days olive will be one year old. dang. wow. huh? WHA? sweet! oh no! etc. with moving, selling the house pending and probable i want to try to hash out some plans now so they don't literally get lost in the shuffle. every year my parents, who are very active in their area's Lion's club, have a convention the closest weekend to the kid's birthdays. so maybe the weekend of april 19th? i guess i should mention here that olive and augustine's birthdays are three days apart, something i wept and wept over as i went more and more overdue and it became obvious that their birthdays would forever be mingled. ugh. for their childhood at least, it will be a blessing as we can combine parties. im one of those folks who thinks that too much celebration, at least in relationship to the grandeur of said celebration, is unnecessary and overindulgent. time will tell if the close birthdays causes conflicts as the years roll on and childhood gives way to adolescence and all of it's accompanying drama and selfishness. a parent can only do so much to dismantle the inner bombs of teenagers you know?

my plan is to give the kids one gift each with one large gift for them to share. i have already purchased olive's gift. the full price makes me criiiinge. when we move augustine, in his growing love of cosleeping, (sidebar: he hated it as a baby, now loves it as a little boy. huh?) will be moving from his toddler bed into a full size. i think we will surprise him with, as his birthday gift, a new bedding set. checking out target & ikea now. trying to pick out something with longevity and balancing it with something that he would also really love now is more of a challenge than i thought. just in my own head im sure, because he doesn't know that sheets are "supposed" to be entertaining and colorful per se. man he would love this and it's on clearance! their collective gift im thinking will be a wagon. our new apartment is 1/2 a mile from bevoort park and im not one to own a double stroller so wagon it is for our continuous park treks.

planning the menu is always my favorite part, obviously. im going to make brownie "popcicles" like these. this weekend i made a batch of the best brownies ive ever made (see here for recipe). they were desimated in just two days! so those for the adults & two children size smash cakes for the kids. still need to get to the craft or dollar store and get a teensy cake pan, then decide on what type of cake to make. im thinking carrot but maybe im imposing my favorite cake onto them? i've been itching to use martha stewart's recipe too. or this one, specific to babies.

i should sew this on my chest.