this month's congregational email from our senior pastor Rich Nathan was really amazing. it was all about making children our priority as Jesus values them and sets it out for us in the bible.
People were bringing little children to Jesus for him to place his hands on them, but the disciples rebuked them. When Jesus saw this, he was indignant. He said to them, "Let the little children come to me, and do not hinder them, for the kingdom of God belongs to such as these. Truly I tell you, anyone who will not receive the kingdom of God like a little child will never enter it." And he took the children in his arms, placed his hands on them and blessed them.
that sort of mentality to me has been deeply impressed on my heart and davids regarding how we parent. in his email Rich said "Jesus regularly tells us that those who are unimportant (to people) are important to God. We read statements like: "The first will be last and the last will be first" (Matt. 20:16) and "He has filled the hungry with good things, but has sent the rich away empty" (Luke 1:53), and "Everyone who exalts himself will be humbled, and he who humbles himself will be exalted" (Luke 18:14). "
i'm not saying people should give up their entire lives because they become parents, certainly not. but i think our culture doesnt give children the value that they deserve. augustine is such a Light in my life (and many others...). he is so innocent and unashamed to be just who he is, without compromise. he doesnt know about shame and self consciousness yet. i sort of wish he never would. the other night he ate a great dinner (at the table with us like a big boy, not in a high chair) and for a reward he was offered a scoop of ice cream with chocolate on top. immediatelly after david got the chocolate out of the fridge he started dancing around the kitchen singing! i learn so much from him about how to live (and simultaneously how not to live). he sees things for what they are and isnt compromised by social pressures. if he feels joyous he dances a jig and sings! i hate how life can suck the innocence out of people. i hope he is still dancing and singing about the simple pleasures in life when he is old and gray.
he never did eat that scoop of ice cream - no worries someone took care of it *cough*david*cough*. the point is that we should all be a little more like children.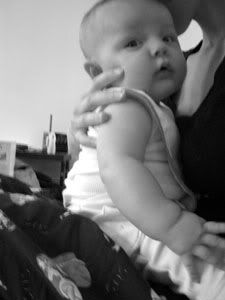 to view Rich's email in it's entirety go here