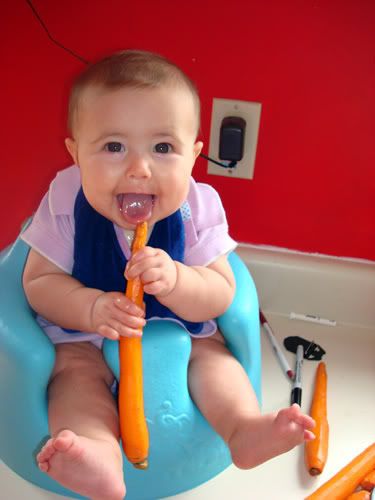 little bird, little bird // little liza jane



i regularly sing the latter song to olive and change the lyrics from "little liza jane" to "olive adeline". she LOVES it. i sing the former to both of them and we change the "molasses candy" to "jelly bean candy" and auggie cracks up. this and a million other reasons makes me so grateful that i can stay home with my babies. i dont want to miss a minute.

how i mentioned lately how much i love cooking? i love it almost as much as reading or gardening. heck if i could read a book and garden while cooking i'd be on cloud nine. (if only i could figure out how to nap during said event.. hmm...) i think i am done making baby food for when olive starts solids and im terribly bummed about this. i want to make more but i highly doubt she will need any more. boo hiss! the above picture was me making carrots obviously. anyways - i try to cook at least one thing from scratch per day - today i made two. one was a whole grain ziti and the other was
cherry banana bread

1 1/4 cups sugar
1/2 cup butter or margarine, softened
2 large eggs
1 1/2 cups mashed, ripe bananas
1 cup cherries
1/2 cups milk (i used vanilla soymilk)
1 tsp vanilla (i omitted this since i used the vanilla soymilk)
1 cup all-purpose flour
1 1/2 cups whole wheat flour
**or 2 1/2 cups all-purpose flour**
1 tsp baking soda
1 tsp salt
1 cup chopped nuts (optional)

preheat oven to 350. move the rack to the bottom setting so the pans are in the center of the oven during cooking. i used my pampered chef stoneware which i am obsessed with thanks to my mother in law! but you can use a regular ol' loaf pan (but this recipe makes two loaves ill add. 3 if you use the mini loaf pan i used) if you aren't using stone, grease only the bottom of the pans with shortening.

mix sugar and butter on medium, then blend in the eggs until they are well combined. stir in banans, cherries, milk, and vanilla. then stir in the flour, baking soda, and salt until moistened. then stir in the nuts if you're using them. divide evenly between the pans.

bake 8-inch loaves for 1 hr, 9-inch loaves about 1 hr 15 minutes. remove from the pan and put onto a wire cooling rack (ahem. pampered chef has a great one...) cool and enjoy the yumminess

i just realized upon thinking more about it that i have a LOT of pampered chef stuff. no complaints, just an observation.



oh a scale from 1-10 how much of a dork am i because i have a wishlist on burpee? (this is really a chunk of my christmas list!)

and as much as i think jenny mccarthy is a total bimbo, im glad she is bringing some attention to vaccine education and awareness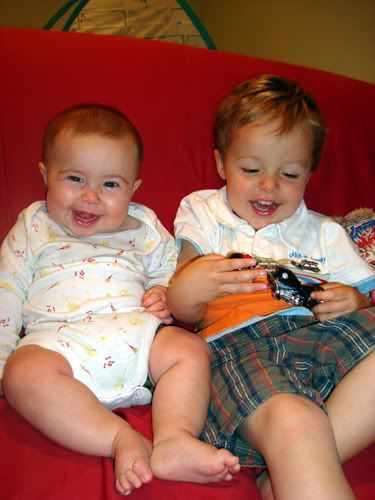 and olive really loves pinwheels