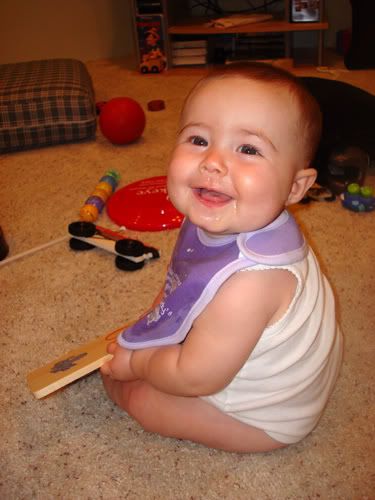 she's cute but a minute ago she pooped all over my new carpet. (and was happy as a clam about it too ill add) this is what i get for letting her romp around sans diaper. she has a wee diaper rash and air is the best method of recovery from such a thing. i love scotchguard

i am really excited about the time travelers wife (read it here) being made. i think the casting is perfect except eric bana who is going to play henry. (rachel mcadams will be claire and ron livingston is the perfect gomez i think - except for maybe peter saarsgard). eric bana is meh. it's not who i picture henry being, no one really springs to mind i suppose. any other suggestions for those who have read it?

sunday david let me sleep in until 10! then i took another 45 minute nap at noon when olive laid down. fantastic!!!! i felt really energized. a girl can never have too much sleep. well unless you are olive who has been getting up 5-6 times per night now that she is sick.

monday i drove to marysville to get an adjustment. i woke up and found my lower back practically immobile so i didn't think i could make it through the day without an adjustment. i ran out of veggie oil on the way back and had to run the car on diesel. i was not happy! this is the first time this has ever happened. grumpus is me. it was also 90 degrees out and silly me made my appointment at 1 pm - oh and there's no a/c in my car. i had to stop at a rest stop on the way there and get some water from a vending machine i was so overheated. auggie drank a whole water unto himself between there and back.

after that i spent some quality time with michelle and saylor. we went to the bug park (AGAIN) wednesday, this time with carrie anne and caden and we had a picnic. saylor is borrowing auggie's octopus halloween costume and i can't wait to see him in it! olive is going to be a lady bug, i dont think ive mentioned that have i? i saw it in the clothes we borrowed from maria and duane and was SO delighted to see it. i have no idea what auggie is going to be. something that doesn't cost a lot of money - how about that?

david and olive are taking a bath together right now. i can hear them talking and making funny noises together. i love my husband so much i could scream.

im torn between making a cheesy bacon potatoe thing-a-ma-bob concoction for dinner, the layered enchilada bake, and the beefy one pot meal ive been wanting to make. oh beefyness it is i suppose. i am determined to cut our food budget and eat healthier. i think we do a pretty good job but there is always room for improvement (who me, seeking out improvement? you joke!) means of attack: shop around at multiple stores for the best deals, use farmer's market/produce stands as much as possible, buy in bulk, better use of coupons, & use what is on sale to build meals not what i want to buy necessarily. we also need to get some mason jars and take them to the stores with us to buy bulk stuff. that way we don't have to use plastic bags for each one, which i must happily say we've been 100% on lately. when we buy produce we just put it all in one large tote and then weigh it individually. outside of a weird look or two from the cashier there has been no issue with this system, especially if you just mention that you are trying to reduce your use of plastic bags. but i want to start buying more in bulk - flour, dried fruit, beans/lentils, sugar, oats, etc. a lot of this is coming to me from reading this great book called feed your family for $12 a day. so many duh moments while reading it. like using coupons wisely. thus far we've always just bought store brands primarily but if you use coupons during double coupon times you can practically get stuff for pennies. this entry is really boring. kudos if you read all of that.