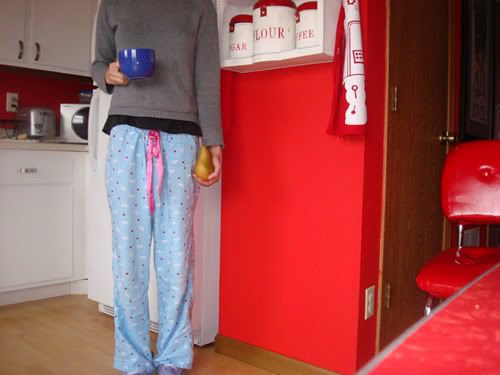 today is my 26th birthday and this is my self portrait.



augustine woke me up at still-dark-o'clock and i told him to go lie down and sleep a little longer. the second time he did it i looked at the clock and saw it was 7:30 and david was still asleep. i furiously poked him proclaiming that he was late for work and without opening his eyes he said with a sly smile "well i guess ill stay home today then..." YEAH! he took the babies downstairs and fed and played with them until i rolled out of bed at the leisurely hour of 10. babies don't sleep that well i promise you. i was deaddddd and loving every minute of it. the day began with a fantastic breakfast (sausage, apple dipped in strawberry yogurt) and auggie squealing happy birrtdee mommy!! while giving me a gift of a new wallet, which ive needed very badly considering my now old one would only snap on one side and was utterly busted. my day was entirely free of everyday responsibility. david made lunch and played with the kiddos, etc. etc. etc. while i baked with my new kitchenaid mixer and while i went out to get a haircut.





!!!! AAHH !!!!

auggie even sang to me





this evening we went to buca de beppo for dinner with my parents + brother josh and sister in law brienne. josh springs the exact same (hilarious) birthday card on me every single year. and every year somehow he convinces me that oh i forgot it this year! or we were running late so i didn't get around to writing it. etc. and when the card is pounced upon me i laugh until i almost cry EVERY YEAR. the first year i thought what a funny card it was. the second year oh wow! that is hilarious again! by the third year i started saving them and i now have i think 4 years worth saved or so. oh and one year he made the card into wrapping paper for my gift and another he used the paper to make birthday hats for everyone to wear. it is hilarious!!! the dinner was great, the company was great, the dessert was to die for! they sang to me, even though i told them not to (!).

when i went to blow out the candles i wished for nothing. truly i've never been happier in my entire life and i don't mean that frivolously or in some gratuitous birthday spirit. i wished for nothing because i need nothing but what i have right now. im so so abundantly blessed by my family and friends. what seemingly meager possessions i have are things that i love and use and they also bring me joy. my husband loves me and i love him more and more every day we share together. my children -- oh my great little babies how they fill my heart, life, night & day with light and love.